PgCert in Professional Development in Small Animal Surgery (WBIS)
Become a Super Small Animal Surgeon...
The next intakes are in 2023. There are intakes starting in March 2023 and September 2023. Download a 2023 brochure now by clicking the button below to Register your interest.
The BRAND NEW highly practical, flexible and incredibly convenient work-based certificate programme from CPD Solutions.
Please enter your details below and click the orange button
We will never share your details with a third party
If you have any questions please call us on..
WARNING: Not recommended unless you want to seriously develop as a surgeon, gain tremendous confidence in case management and have a wholly positive impact on your practice.
New Skills

New and enhanced practical skills to enable you to carry out more effective procedures in your practice, increase practice revenue and provide a more convenient in house service for your patients and their owners.

12 Month Programme

The 12 month duration of the programme gives you a valuable qualification quickly. This means minimal disruption for you, your family and your practice and you can put your new skills to use straight away.

Attendance Sessions

Just three, highly-practical attendance sessions each of three or four days to reinforce learning, teach you new skills and minimise disruption to your life.
Support

Support from expert and approachable tutors throughout the duration of the course.

Valuable Qualification

A valuable qualification awarded by the University of Chester that you can use to further your career and raise your personal and practice profile. The PgCert is 60 credits on the National Framework at Masters Level. Provision is situated within Chester's renowned work based learning and accreditation framework. Assessment is via a reflective portfolio including case studies and essays.

Extensive Practical Training

Ten full days of hands-on practical surgery training delivered by expert and approachable tutors who all receive excellent feedback on our current practical courses.

Learning Resources

Online resources to provide a framework for your self-directed study – webinars, online Mini Series, surgical technique videos, practical notes, RCVS Knowledge Library membership, access to University of Chester eLibrary and resources, online text books, bespoke reflective writing resources.
What our Students Say.......
Love the modern approach to the PgCert on reflection rather than memorisation and article writing.

Rhiannon Jones MRCVS
Brilliantly organised, tutors of the highest quality and highly practical teaching! Very practical, well taught, well worth it!

Rory Cowlam MRCVS
Excellent, very hands on. Pre-reading essential. Course tutors all excellent-very approachable and extremely knowledgeable.

Michelle Lawrence MRCVS
Excellent, much more social within the group and with the tutors than expected. Really feel like CPD Solutions is investing in me. Thank you.

Sally Potter MRCVS
Really positive - Excellent detail covered, lovely tutors.

Tshidi Gardiner MRCVS
I'm really pleased about my experience. This course is giving me new input and challenging my knowledge. The tutors are giving useful tips in practical lectures and great lessons.

Ilaria Falcini MRCVS
Great CPD, the practicals are great to practise what you learn.

Sara Eley MRCVS
Excellent practical facilities and ability to practice and apply techniques learnt. Really friendly and approachable tutors. I love coming here for CPD.

Emma Corfield MRCVS
Overall very impressed with course, happy I chose CPD Solutions and feel I will gain a lot from it.

Guy Sandelowsky MRCVS
Exceeded my expectations. Beautifully refurbished wet lab, great food, welcoming staff.

Tony Syrris MRCVS
I've really enjoyed the sessions and learnt a huge amount. Particularly like the emphasis on 'doing' rather than endless lectures-excellent use of time. Lovely venue, all staff work well together, very smooth running of sessions.

Liam O'Connor
Very much enjoy tutorial and practical sessions. Excellent way to advance CPD and knowledge with massive course content.

Neil Brogan MRCVS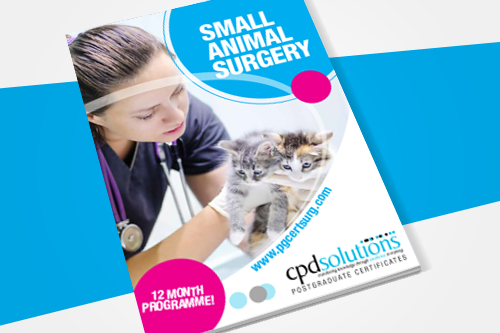 If you prefer you can call us on..
£400 CPD Voucher

To use on any practical course of your choice during or after your PgCert course.

Value: £400   You Pay: £0

One Year's Additional Access to Online Resources

An extra year's access to all of the CPD Solutions online resources in your support materials. Includes webinars and Online Mini Series courses with unlimited access.

Value: £3000  You pay: £0
Essential Text Book

Veterinary Surgery: Small Animal Expert Consult 2nd Edition by Tobias and Johnston.

Value: £185  You Pay: £0
Essential equipment

Quality tungsten carbide Metzenbaum scissors to help you with your precision surgery from Day one.

Value: £105   You Pay: £0
Total Value of Bonuses: £3690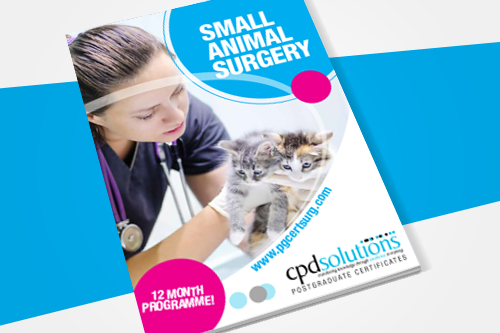 If you prefer you can call us on..
CPD Solutions' portfolio of PG Certificate Professional Development programmes is approved through the University of Chester's award-winning work based learning framework for professionals. Chester is a leading HE specialist in experiential learning and continuing professional development which has developed its work based learning framework to enable academic credit for learning that occurs in and through work, supported by a process of critical reflection on practice. Please see here for more information:
https://www1.chester.ac.uk/departments/centre-professional-economic-development
This PgCert has been approved by the RCVS as part of a route to Advanced Practitioner status for the respective designation. Those wishing to apply for Advanced Practitioner status also need to have completed an assessed professional key skills module, such as the 'A' Module of the RCVS CertAVP (not currently offered by CPD Solutions), and met the other RCVS stipulated criteria, before applying for Advanced Practitioner status. You can find further information on the RCVS website: https://www.rcvs.org.uk/lifelong-learning/professional-accreditation/advanced-practitioner-status/