Become an Expert Emergency Practitioner...
Call us now on 0151 328 0444 to reserve your place for this year's course starting in October
The BRAND NEW highly practical, flexible and incredibly convenient work-based certificate programme from CPD Solutions.
Please enter your details below and click the orange button
We will never share your details with a third party
If you have any questions please call us on..
Really enjoyable, learned a lot, I feel a lot more comfortable with stabilising emergencies and performing surgery if it is appropriate



New Skills

New and enhanced practical skills to enable you to carry out more effective procedures in your practice, increase practice revenue and provide a more convenient in house service for your patients and their owners.

12 Month Programme

The 12 month duration of the programme gives you a valuable qualification quickly. This means minimal disruption for you, your family and your practice and you can put your new skills to use straight away.

Attendance Sessions

Just three attendance sessions, each
of three days, to reinforce learning and
minimise disruption to your life

A dedicated contact at CPD Solutions to help you whenever you have a question or a challenge.
Support

Support from expert and approachable tutors throughout the duration of the course. Face to face practical sessions will help you develop your skills in emergency medicine and surgery, and your personal tutor will be there to guide your self-directed studies with feedback on your work.

Valuable Qualification

A valuable qualification awarded by the University of Chester that you can use to further your career and raise your personal and practice profile. The PgCert is 60 credits on the National Framework at Masters Level. Provision is situated within Chester's renowned work based learning and accreditation framework.

Extensive Practical Training

Nine full days of hands-on practical training delivered by expert and approachable tutors from the specialties of Emergency and Critical Care, Medicine and Surgery
What our Students Say.......
Love the modern approach to the PgCert on reflection rather than memorisation and article writing.

Rhiannon Jones MRCVS
Massively impressed. Well run, great tutors, can't wait for next year.

Rory Cowlam MRCVS
Excellent, very hands on. Pre-reading essential. Course tutors all excellent-very approachable and extremely knowledgeable.

Michelle Lawrence MRCVS
Excellent, much more social within the group and with the tutors than expected. Really feel like CPD Solutions is investing in me. Thank you.

Sally Potter MRCVS
Really positive - Excellent detail covered, lovely tutors.

Tshidi Gardiner MRCVS
I'm really pleased about my experience. This course is giving me new input and challenging my knowledge. The tutors are giving useful tips in practical lectures and great lessons.

Ilaria Falcini MRCVS
Great CPD, the practicals are great to practise what you learn.

Sara Eley MRCVS
Excellent. It has allowed me to approach problems in an improved way, and improved my knowledge immensely and given me new confidence. Very friendly staff, brilliant food.

Richard Todd MRCVS
Excellent, very informative, well presented content and duration of each session just about perfect. Excellent friendly atmosphere.

Terry Croud MRCVS
Brilliant so far. I was worried that I was going to be over overwhelmed and intimidated - quite the opposite. Brilliant and very well organised.

Georgie Mason MRCVS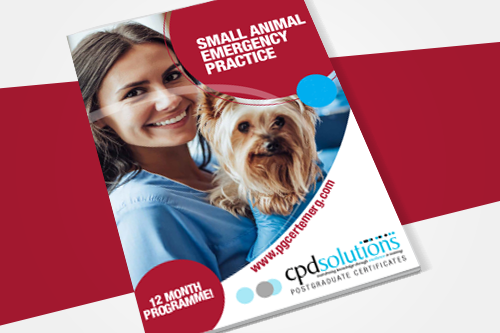 Please enter your details below and click the orange button
We will never share your details with a third party
If you prefer you can call us on..
£400 CPD Voucher

A £400 CPD Voucher for you to
use on any Practical Attendance
Course the year after your PgCert
Course. A little help that you can
put towards a practical course in a
specific area that you may identify
while you're completing your
PgCert.

Value: £400   You Pay: £0

One Year's Additional Access to Online Resources

An extra year's access to all of the CPD Solutions online resources in your support materials. Includes webinars and Online Mini Series courses with unlimited access.

Value: £3000  You pay: £0
ECC Webinar Club Membership

Unlimited access to Emergency and Critical Care Webinar Club for 2 years. You'll be able to access all of the webinars already in the archive, plus one new webinar every month.

Value: £874  You Pay: £0

Ultimate DVD Bundle

For your personal or practice library. 29 DVDs and CDs on all topics including surgery, imaging and medicine. An ideal on-going reference.

Value: £1872   You pay: £0
Total Value of Bonuses: £6146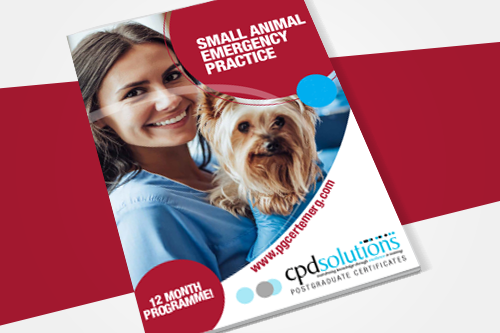 Please enter your details below and click the orange button
We will never share your details with a third party
If you prefer you can call us on..