PgCert in Professional Development in Small Animal Emergency Practice (WBIS)
Become an Expert Emergency Practitioner in just one year...
Call us now on 0151 328 0444 to reserve your place for the next course starting in July 2023.
Please enter your details below and click the orange button
We will never share your details with a third party
Really enjoyable, learned a lot, I feel a lot more comfortable with stabilising emergencies and performing surgery if it is appropriate



New Skills

New and enhanced practical skills to enable you to carry out more effective procedures in your practice, increase practice revenue and provide a more convenient in house service for your patients and their owners.

12 Month Programme

The 12 month duration of the programme gives you a valuable qualification quickly. This means minimal disruption for you, your family and your practice and you can put your new skills to use straight away.

Attendance Sessions

Just three attendance sessions, each
of three days, to reinforce learning and
minimise disruption to your life

A dedicated contact at CPD Solutions to help you whenever you have a question or a challenge.
Support

Support from expert and approachable tutors throughout the duration of the course. Face to face practical sessions will help you develop your skills in emergency medicine and surgery, and your personal tutor will be there to guide your self-directed studies with feedback on your work.

Valuable Qualification

A valuable qualification awarded by the University of Chester that you can use to further your career and raise your personal and practice profile. The PgCert is 60 credits on the National Framework at Masters Level. Provision is situated within Chester's renowned work based learning and accreditation framework.

Extensive Practical Training

Nine full days of hands-on practical training delivered by expert and approachable tutors from the specialties of Emergency and Critical Care, Medicine and Surgery

Learning Resources

Online resources to provide a framework for your self-directed study – webinars, online Mini Series, surgical technique videos, practical notes, RCVS Knowledge Library membership, access to University of Chester eLibrary and resources, online text books, bespoke reflective writing resources.
What our Students Say.......
The PgCertEmerg course has been a superb educational experience. The webinars were excellent, given by speakers well known within the fields of veterinary ECC, medicine and surgery. The practical days were run by knowledgeable and supportive tutors covering topics in detail such as CPR, endoscopy, chest tube placement and emergency surgical techniques, with ample opportunities to ask questions. The staff at CPD Solutions are to be commended for managing to continue to run the course during the Covid-19 pandemic, going to great lengths to keep delegates safe at the course venue under very difficult circumstances.

Reflecting upon my own cases through literature searching for essays during this course and learning to appraise existing evidence bases for treatment protocols we use day-to-day in our clinic has been invaluable, providing me with skills that I will continue to use for the rest of my career.

Lynne Faulconbridge MRCVS
Massively impressed. Well run, great tutors, can't wait for next year.

Rory Cowlam MRCVS
Excellent, very hands on. Pre-reading essential. Course tutors all excellent-very approachable and extremely knowledgeable.

Michelle Lawrence MRCVS
Excellent, much more social within the group and with the tutors than expected. Really feel like CPD Solutions is investing in me. Thank you.

Sally Potter MRCVS
Really positive - Excellent detail covered, lovely tutors.

Tshidi Gardiner MRCVS
I'm really pleased about my experience. This course is giving me new input and challenging my knowledge. The tutors are giving useful tips in practical lectures and great lessons.

Ilaria Falcini MRCVS
Great CPD, the practicals are great to practise what you learn.

Sara Eley MRCVS
Excellent. It has allowed me to approach problems in an improved way, and improved my knowledge immensely and given me new confidence. Very friendly staff, brilliant food.

Richard Todd MRCVS
Excellent, very informative, well presented content and duration of each session just about perfect. Excellent friendly atmosphere.

Terry Croud MRCVS
Brilliant so far. I was worried that I was going to be over overwhelmed and intimidated - quite the opposite. Brilliant and very well organised.

Georgie Mason MRCVS
Love the modern approach to the PgCert on reflection rather than memorisation and article writing.

Rhiannon Jones MRCVS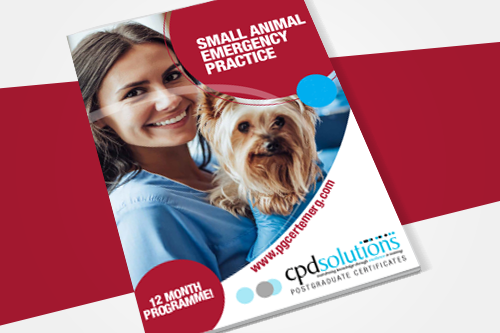 Please enter your details below and click the orange button
We will never share your details with a third party
If you have any questions please call us on
RECOVER Training

New for 2023! Become a RECOVER Certified Rescuer!+ You will be registered for the RECOVER BLS and ALS online courses and the in-person training, which will be led by RECOVER Certified Instructor Emily Thomas. Upon completion, you will become a RECOVER Certified BLS Rescuer and RECOVER Certified ALS Rescuer. Access to the online resources is provided for two years after initial certification.
£400 CPD Voucher

A £400 CPD Voucher for you to
use on any Practical Attendance
Course the year after your PgCert
Course. A little help that you can
put towards a practical course in a
specific area that you may identify
while you're completing your
PgCert.

Value: £400   You Pay: £0

One Year's Additional Access to Online Resources

An extra year's access to all of the CPD Solutions online resources in your support materials. Includes webinars and Online Mini Series courses with unlimited access.

Value: £3000  You pay: £0
ECC Webinar Club Membership

Unlimited access to Emergency and Critical Care Webinar Club for 2 years. You'll be able to access all of the webinars already in the archive, plus one new webinar every month.

Value: £874  You Pay: £0

Essential Text Books

Two essential text books: 'Small Animal Surgical Emergencies' – Aronson, L. R., and 'BSAVA Manual of Canine and Feline Emergency and Critical Care' – King and Boag. Yours to keep.

Value: £182   You Pay: £0
+Please note the online training must be completed prior to the Module One attendance days, therefore only delegates booked onto this PgCert before 19th June 2023 will be eligible for  registration for the free RECOVER training. After this date, please contact CPD Solutions for further advice.
CPD Solutions' portfolio of PG Certificate Professional Development programmes is approved through the University of Chester's award-winning work based learning framework for professionals. Chester is a leading HE specialist in experiential learning and continuing professional development which has developed its work based learning framework to enable academic credit for learning that occurs in and through work, supported by a process of critical reflection on practice. Please see here for more information:
https://www1.chester.ac.uk/departments/centre-professional-economic-development
This PgCert has been approved by the RCVS as part of a route to Advanced Practitioner status for the respective designation. Those wishing to apply for Advanced Practitioner status also need to have completed an assessed professional key skills module, such as the 'A' Module of the RCVS CertAVP (not currently offered by CPD Solutions), and met the other RCVS stipulated criteria, before applying for Advanced Practitioner status. You can find further information on the RCVS website: https://www.rcvs.org.uk/lifelong-learning/professional-accreditation/advanced-practitioner-status/